Screensaver Tools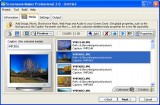 ScreensaverMaker 2.4.1200
ScreensaverMaker is a powerful tool to make and distribute screen savers for Windows . It has a fully integrated workspace that permits you to work efficiently and make professional screen savers in minutes. Screensaver Maker can make screensaver based on state-of-the-art and popular multimedia file formats: images (BMP, JPG, PNG, GIF...), sounds (WAV, MP3, MID, RMI, WMA), movies(AVI, MOV, WMV, MPG, RM), animations (Shockwave Flash, Autodesk Animation) and webpages. You can make screensaver for Windows 95/98/ME/NT4/2000/XP. ScreensaverMaker lets you create screensaver based on Shockwave Flash (no limit to your imagination!), Image Slide Show (display your favorite photos) and Movie (Quick Time, Mpeg, AVI...). Several options are available: More Files Support; MIDI, MP3, WAV, WMA Background music support; Transition Effect support; Masking Effect support ; Customizable screen saver Dialog box, sell your screen saver option, and more...


---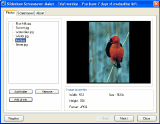 Slideshow Screensaver Maker 1.0
Slideshow Screensaver Maker creates professional-looking screensavers using your photos which you can send to your friends and relatives. All you have to do is select photos and choose a name for your screensaver. Slideshow Screensaver Maker will do the rest!
These screensavers use special transition effects for blending between pictures. Furthermore, you can specify a number of settings, such as the order of the pictures, the effect rate, the number of pictures simultaneously displayed on the screen and much more.


---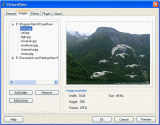 PictureRiver 1.4
PictureRiver is a spectacular slideshow screensaver with over 40 stunning special effects. With this screensaver, even inexperienced users can turn pictures and digital photos into a memorable slideshow screensaver that will become an object of envy to others. The library of transition effects is being continuously updated, ensuring this screensaver is always the top screensaver in its class. PictureRiver supports all common digital image formats, such as JPEG or BMP, and automatically resizes pictures to fit the screen. This screensaver is also 100% customizable. You can set any delay time, apply various transition effects and alter other screensaver parameters. The preview feature allows you to instantly see how your screensaver will look.


---
2Flyer Screensaver Builder Pro 7.3.2
2Flyer Screensaver Builder Window is a multiage window. This structure helps you in creating Screensavers in a really easy way: just fill in the fields you find in any page and when the last page is filled just press the OK button in the lower part of the window and your Screensaver will build.



---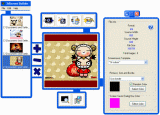 3DScreen Builder 1.41
3DScreen Builder is a unique screensaver creation program. Though it creates a screensaver of your photos like other programs, it has one obvious advantage. Unlike other similar products, it does not create the usual boring slide show; instead, it generates a unique screensaver taking your pictures into a 3D world of fantasy.


---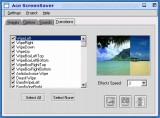 Ace Screensaver 2.41
Ace Screensaver is a small and easy to use screensaver maker program. It supports creating your own picture slideshow screensavers. Ace ScreenSaver can create and distribute your own slideshow screen saver for Windows 95/98/NT4/2000/Me computers. You can display an unlimited number of photos and select from more than 90 picture slideshow transition effects. No programming skills needed for using this software, just collect pictures and sounds and add them to your screensaver project with just several clicks. Ace Screensaver supports creating self-installing screensavers which means created screensavers are distributable.


---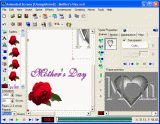 Animated Screen 6.7
Animated Screen converts your screen savers to self-running EXE files. The program compresses installation package so it can be easily sent over the Internet. Animated Screen is creating animated screen savers, greetings, GIF and AVI files. The program helps you to create an animation quickly and easily. Animated Screen is your choice if you need to create a stunning multimedia stand-alone animation .You can create animations from your own pictures (JPG, GIF, BMP, AVI) and easily add sound and music (WAV, MIDI, RMI...) files to your animation.


---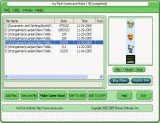 Any Flash Screensaver Maker 1.80
Any Flash Screensaver Maker allows you to make your own screensavers from your favorite Macromedia Flash movies. You can make your own screensavers direct from your Flash .SWF files.
Any Flash Screensaver Maker makes batch file conversion simple. Create a batch list of many different flash .swf files and convert them all to Screen saver or flash exe files. The converted files will be saved to a pre-selected directory folder and the original files will remain untouched.


---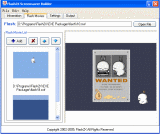 Flash2X Screensaver Builder 2.0.2
Flash2X Screensaver Builder is a program to create Flash screensavers. Build Macromedia Shockwave Flash screensavers and distribute them to world wide. It offers a lot of customized settings for building wonderful Flash screensavers. For example, users are able to show custom logo in Flash screensavers and control sound on or off while playing Flash screensavers. It is very easy to understand the settings and create an ideal Flash screensaver.


---
Flash ScreenSaver Master 3.2
Flash Screensaver Master is an easy-to-use but powerful flash screensaver maker, which enables you to convert Flash files (*.swf) to screensavers, or build slide show screensavers with your favorite images. Additionally, you can add MP3, WAVor MIDI music files as background sound to make even attractive screensavers. Add list of latest projects. The name of the project will be showed as title when it opens. Add install config, can reset the screensaver when you installing it. Add list of latest projects. The name of the project will be showed as title when it opens. Add frames in decorate, can set frame to the screensaver, preview frame is supported. Add building progress. Add installer output file type, you can directly install the screensaver by this file.


---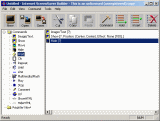 Internet ScreenSaver Builder 5.15
Make screen savers updateable via Internet. Use images, text and avi/wav/mp3 files with wizard, transition effects and command language. Put any changes on the web and screensaver will update automatically. Also makes standard screensavers. Internet ScreenSaver Builder is a powerful tool for creating screen savers. Content management solution anybody can use without special training and program for making screensavers with automatic internet update. It is aware that a lot of different commands with numerous options can confuse inexperienced users.


---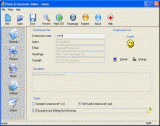 Photo Screensaver Maker 4.9.6
Photo Screensaver Maker is a tool to help you make your own slide-show screensavers with photos, music and text captures. You can add any pictures (.jpg,.gif,.bmp,.png,.tif,.tga or .pcx ) and import audio files(.mp3,.midi or .wav) as background music to your creation.
The first screen that appears in Photo Screensaver Maker is designed for entering basic information about the screensaver you would like to create. Here, you can enter the screensaver's name, a short description of it, as well as the author's name.


---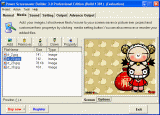 Power Screensaver Builder Pro 3.0
Power Screensaver Builder is a powerful multimedia tool that lets you create your professional image slide show screensaver, Shockwave flash screensaver and video movie screensavers quickly and without any programming, including shareware screensavers that require a registration key. It supports various image formats, transition effects and the inclusion of music files in the screensavers that you create, and it's stylish, yet simple-to-use interface that will take you through creating your screensavers. You can create a smaller size screen saver file that only records the directories of media files in your local hard disk.


---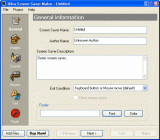 Ultra Screen Saver Maker 2.2
Using Ultra Screen Saver Maker you are able to create very attractive screen savers. It works with many graphics, audio and video formats, and with their combinations you can make compact, single file, a true screen saver! In your screen savers you can also add various text messages with different fonts and effects.


---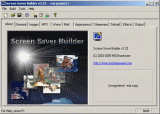 Screen Saver Builder 3.32
Screen Saver Builder is a Windows tool which lets you make your own custom, slide show style, screensavers: select images and it will merge them into a Windows standard, (.scr) or self installable (.exe) screen saver file! Moreover, you can add .mp3, .wav and .mid sound and music files to your screensavers to be played while the images are displayed. You can also add to each image a caption and more. The way it operates is simple: first of all you have to collect a set of images in JPEG (.jpg or .jpeg), GIF (.gif), or BITMAP (.bmp) format; then Screen Saver Builder reads them and creates a .scr or .exe file.


---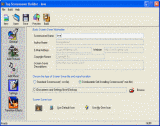 Top Screen Saver Builder 1.0
With Top Screensaver Builder you can build windows standard SCR files or distributable self-installing executable file. There are many types of transition effects for you to choose from. Supported pictures format includes jpg, gif, png, bmp, pif, tga or pcx. As for audio files, you can use either wav,midi or mp3 files. Pictures display or music playing delays can be configured to cater your demand. You can include unlimited number of pictures in your screen saver.


---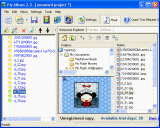 Fly Album 2.3
Fly Album is a tool for creating attractive digital photo albums (electronic photo albums) in CHM format. With it you can make a lovely digital photo album with background music for your lover, kids and friends. Fly Album also allows you to create web photo albums (online photo albums) that can be published on the Internet or your website that can be shared with others easily. Fly Album includes many transition effects.


---